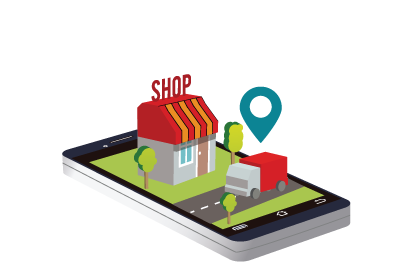 Approved By:
Adobe Commerce Marketplace
Developed By:
Adobe Certified Experts
Store Pickup Extension for Magento 2
Magento 2 Store Pickup acts as a shipping extension that lets customers choose a specific store from your chain of stores to pick up products during checkout.
30 Days Moneyback Guarantee
12 Months Support & Updates
---
Details
FEATURE HIGHLIGHTS
It allows the customer to choose a outlet for pickup order items from list of outlet.
The customer can choose pickup date for the order during the checkout process.
The customer can not select previous dates for pick up on front-end.
Display shipping address and pickup date and store's working hours in order view page.
The admin can specify working days of outlet.
The admin can specify working hours of outlet.
Display shipping address, pickup date, and store's working hours in order view page.
The admin can add the retail-store's location using google map
Overview
If you are one of those site owners who have the offline presence and want to offer customers online ordering and pick up from the store's facility then, this is the perfect extension which suits your requirements. When you install this module, it will add a new shipping method (Store Pickup). With this shipping method, the admin can add multiple outlets. The customer can select one of them for pickup destination during checkout.
The pickup at store extension also allows admin to set restriction to enable this method, for example, a web-shop owner wants to give pickup from shop functionality only for those order which has some minimum amount order then with using this module it is possible.
Store pickup extension allows to list out multiple retail outlets/resellers. Store management for this very easy and user-friendly. The admin can add the detail via placing markup on the map and other details regarding address will be fetched automatically. The extesion also allows admin to add notice/information for the "Store Pickup" method which will display on front-end.
Options for customers
Facility to buy online pick up in store on checkout
MageArray buy online pickup in shop for Magento 2 enable a shipping method on checkout. After installing the extension, Dropdown with the list of physical stores will be displayed in the shipping Method section at the checkout page. During checkout, your customer can select the most preferable outlet to pick up the ordered items.
A predefined date and time range will be also visible for customers. The admin can disable the store's day off and notify them when a holiday is chosen as a shipping date. Using this amazing extension, you can improve your order fulfillment process.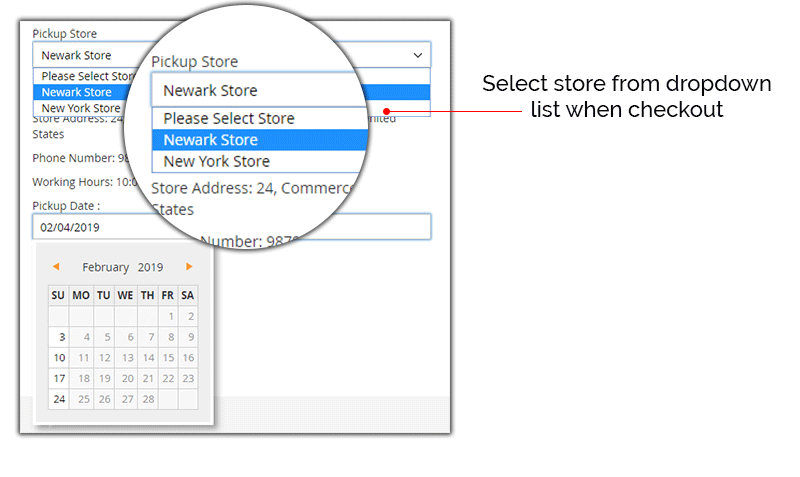 View details of a selected store
On the checkout page, When the customer selects the preferable store, the extension will show the relevant information regarding stores such as store's address, contact information (phone, email) and Working Hours.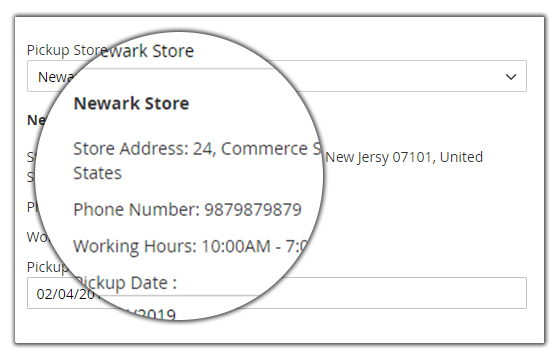 Options for retailers
Listout all available pickup locations
MageArray Store Pickup is easy to use. The admin can manually add new stores within a few minutes. Moreover, this module allows admin to set a detailed information (Shop Name, address, working hours, phone number) to each entry. These details will be displayed on front-end when customer select the store from listing dropdown. However, there is no limit to the listing pickup stations so, Admin can add all the available locations.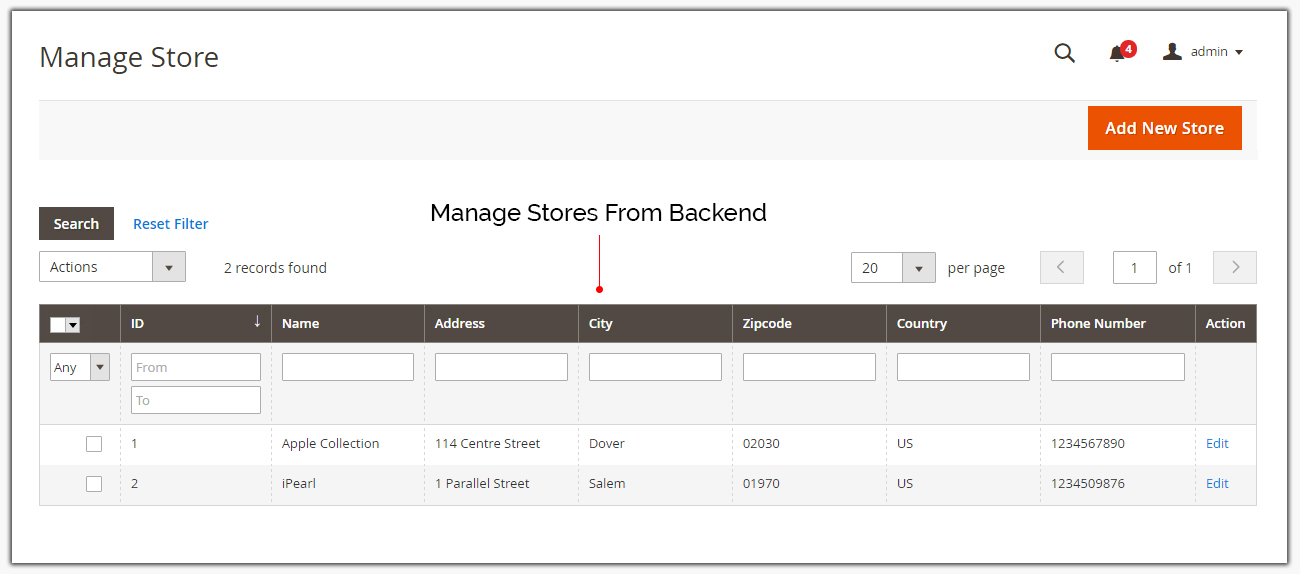 Disable the date for the selection.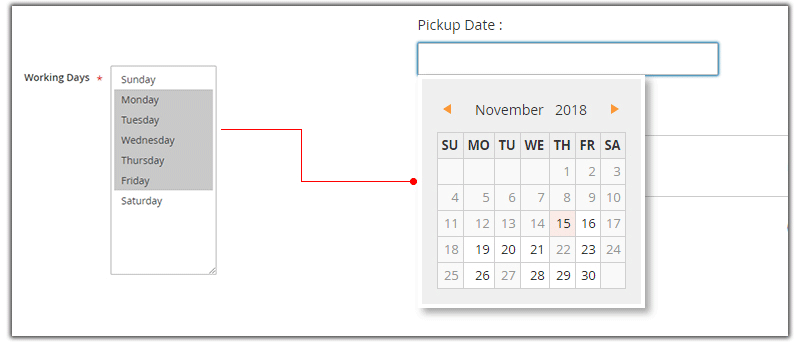 FAQ - Common questions about store pickup extension
Question: - Can I change the name of shipping method "Store Pickup" to something else?
Answer: - Yes, you can change shipping method name as per your requirement.
Question: - Is there any limit to list out stores for "Store Pickup" option?
Answer: - No, there is no limitation. You can list out unlimited stores.
Question: - Can I restrict store pickup shipping method by order value?
Answer: - Yes, there is a setting for minimum order value.
Question: - Can a customer choose pickup date of delivery on checkout?
Answer: - Yes, the customer can choose pickup date on checkout.
Question: - Is this module provide own payment method?
Answer: - No.
Question: - Can I run this on my staging or development site, too?
Answer: - Yes, you can use this module for your staging or development website.
Support
We support all our customers through our website. If you have any questions on Extension or need support with its use please contact us. – we're happy to help you.
Do check other Magento 2 Extensions by MageArray
Reviews 5
User Guide
Change Log
Version 1.1.3
- Compatibility with Magento 2.4.6
Version 1.1.2
- Compatibility with Magento 2.4.5-p1
Version 1.1.1
- Compatibility with Magento 2.4.4
- Bug Fixes
Version 1.1.0
- Compatibility with Magento 2.4.4
- Bug Fixes
Version 1.0.9
- Compatibility with Magento 2.4.3
- Add Extension version in Stores > Configuration setting
Version 1.0.8
- Compatibility with Magento 2.4.1
- Bug Fixes
Version 1.0.7
- Compatibility with Magento 2.4.0
Version 1.0.6
- Compatibility with Magento 2.3.3
Version 1.0.5
- Compatibility with Magento 2.3.0
Version 1.0.4
- New Features - Default pickup store functionality
Version 1.0.3
- Bug Fixes
- New Features - store pickup functionality product wise
Version 1.0.2
- Bug Fixes
- New Features - customer can select pickup time on checkout, No need to add shipping address if store pickup selected
Version 1.0.1
- Compatibility with Magento 2.2.X
Version 1.0.0
- Initial release