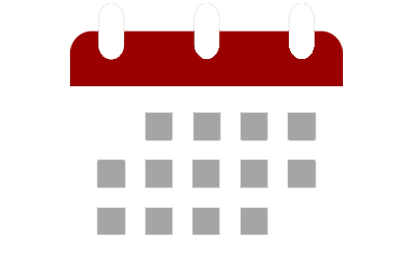 Approved By:
Adobe Commerce Marketplace
Developed By:
Adobe Certified Experts
Hyvä Compatible
Events Calendar
Magento 2 Events Manager Extension is an admin controlled module where the admin can add events/events group to the calendar. Magento 2 Events Calendar Extension brings a beautiful calendar with marked events on it.
30 Days Moneyback Guarantee
12 Months Support & Updates
---
Details
Do you host many events or maybe you are planning to do so in the future? Whatever the case is, you will need a reliable event calendar extension for your website. Event calendar extension by MageArray could be used to create and manage small to significant scale events like conferences, concerts, parties, seminars, trade shows, workshops, and webinars. Moreover, you can use the calendar extension to promote upcoming deals/offers/sale.
The admin can create events in the admin area. Events can last one or more days, and the admin can add much information such as starting and ending time and date for each event, textual description, and location map. The added entries will show on the front-end with a beautiful calendar marked with events on it.
On front-end, user can see the calendar, and if he/she wants to more about the event, then he/she can click on that event. He/She will be redirected to the event detail page, where all the relevant details will be available. The admin can also download the list of all the events in CSV File format from the admin area.
Display modes of events calendar - month, week, day or list
The admin can choose display mode month, week or day as per the requirement. For example, during special promotion days, admin wants to show various events of the day, whereas sometimes admin wants to show month view to visitors. Switching calendar view is an easy task with this extension.
Filter events by categories
On the one hand category functionality allows admin to create various types of groups for events and assign events to them. On the other hand, customers can use filter to see the events of a specific category.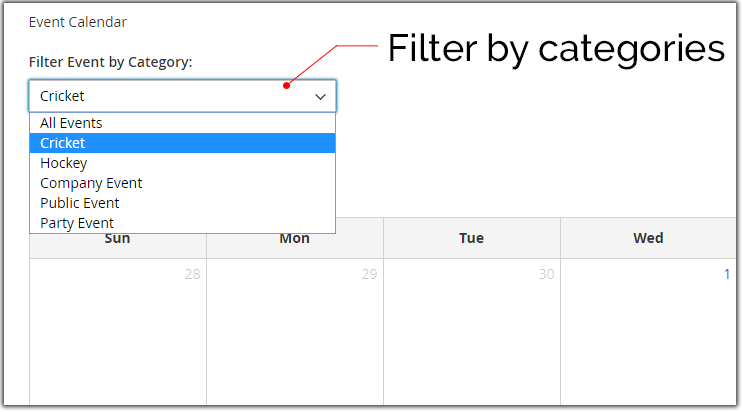 Unique SEO URLs
SEO is one of the crucial elements for the website; the extension generates the SEO friendly URL, so your webshop follows on the best SEO practice and gets the SEO advantage.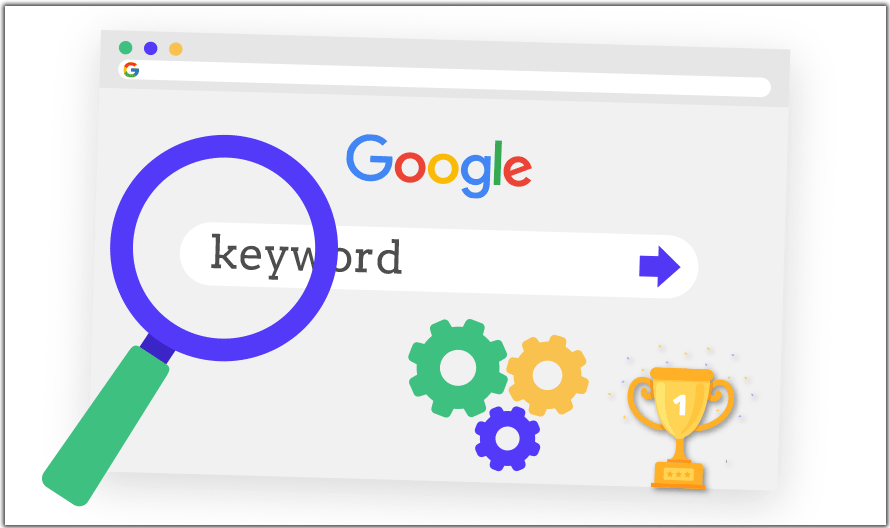 Show Video on events page
The admin can add video on event page such as YouTube or Vimeo using embed code.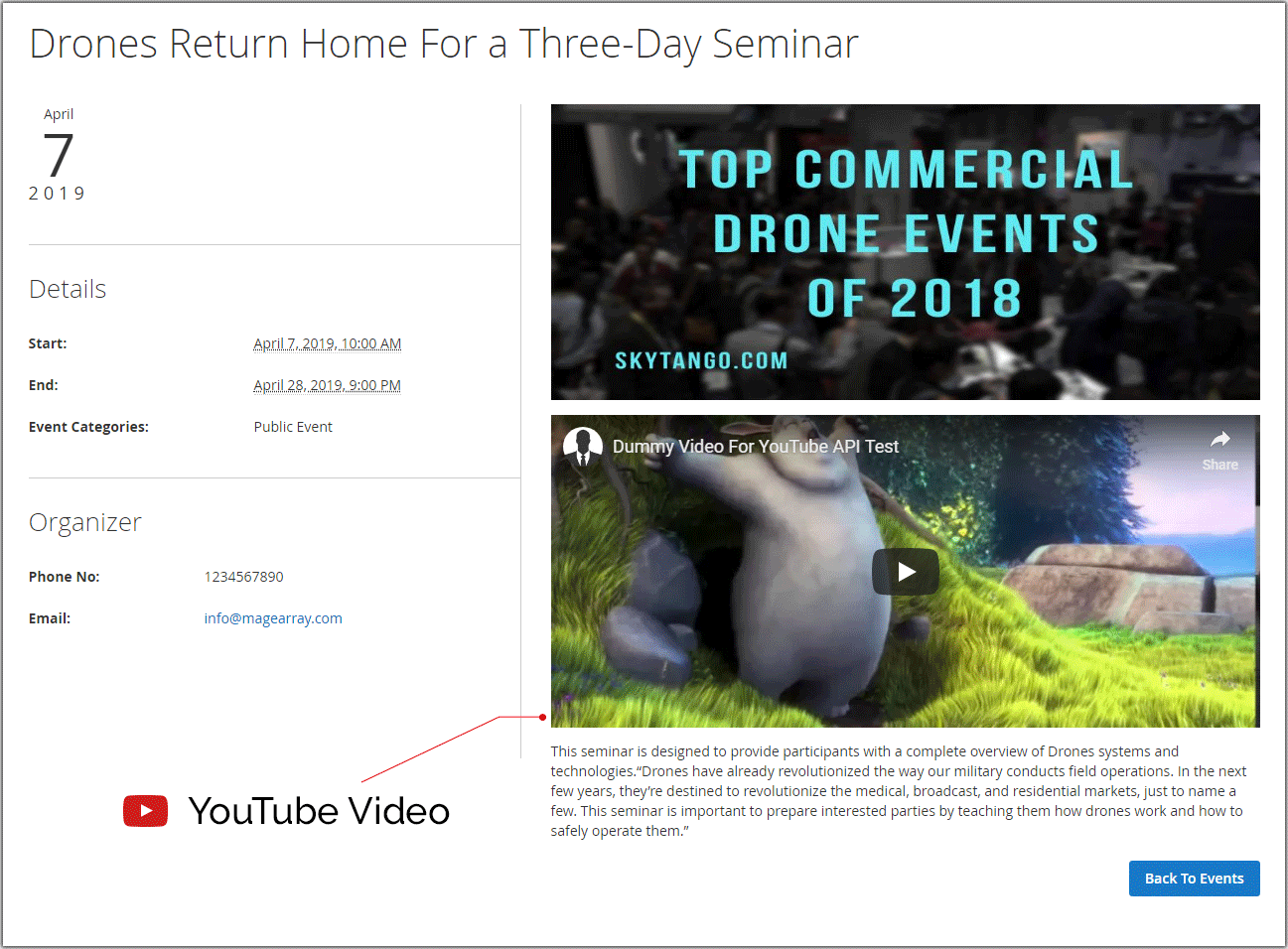 FAQ - Common questions about the Event Calendar
Question: - Can I add events According to categories? For example, I want to create a list of events for our holidays, when the store will remain closed, and a list of our Promotional days when we will have special offers at our store?
Answer: - Yes, you can create categories and create an event according to them.on front-end customer can filter events.
Question: - Can I list all the events on the page instead of the calendar?
Answer: - Yes, you can change calendar/list view on front-end with the help of "View Mode" (dropdown functionality).
Question: - Can I use this to sell event tickets?
Answer: - yes, If you have created an event ticket as a product then you can create a calendar event and add product SKU in that event. Event view page will show that product name. Moreover, when any user clicks on the product name, it will redirect to the product page ( considering you have added event ticket as a product) and can buy it. Also, you can add a google map link to show the google map on the event view page.
Question: - Can I show the Google map of the event?
Answer: - Yes, you can add a google map link to show the google map on the event view page.
Question: - Can I run this on my staging and development site, too?
Answer: - Yes, this module works for staging as well as the live site.
Events Calendar/Events Manager Features
- Display modes of events calendar - month, week or day
- Filter events by categories
- Unique SEO URLs
- Full management over events calendar's look
- Events link to be easily added to the user menu/footer
Support
We support all our customers through our website. If you have any questions on Extension or need support with its use please contact us. – we're happy to help you.
Reviews 18
User Guide
Change Log
Version 1.2.1
- Hyva Theme Support
Version 1.2.0
- Compatibility with 2.4.6 & Fix bugs
Version 1.1.9
- Compatibility with Magento 2.4.5-p1
Version 1.1.8
- Bug fix
Version 1.1.7
- Compatibility with Magento 2.4.4
- Update fullcalendar library
- Bug fix
Version 1.1.6
- Compatibility with Magento 2.4.3
- Add Extension version in Stores > Configuration setting
Version 1.1.5
- Compatibility with Magento 2.4.1
- Bug fix
Version 1.1.4
- Compatibility with Magento 2.3.5
- Bug fix
Version 1.1.3
- Compatibility with Magento 2.3.4
- Bug fix
Version 1.1.1
- Compatibility with Magento 2.3.1
- Add Embed Video Code Functionality
- Bug fix
Version 1.0.6
- Compatibility with Magento 2.2.3
- Bug fix
Version 1.0.5
- Compatibility with Magento 2.2.2
- Bug fix
Version 1.0.4
- Compatibility with Magento 2.0.16, 2.1.9 and 2.2.0
Version 1.0.3
- Compatibility with Magento 2.0.0 - 2.1.7 and 2.2.0-Dev
- Several code optimizations, code cleanup
- Bug fix of Event view page image CSS
- Bug fix of Event view page category display list
- Bug fix of Event save without select category
Version 1.0.2
- Compatibility with Magento 2.0.0 - 2.1.4
- Several code optimizations, code cleanup
- Bug fix of store value not saving in database
- Bug fix of Events Date format change different locale in admin
- Import CSV in add Store id field
- Bug fix of Event List page tool-tips in description not showing
Version 1.0.1
- Compatibility with Magento 2.0.0 - 2.1.1
- Several code optimizations, code cleanup
- Updated MageArray_Eventcalendar
- Fixed bug that could lead to certain variables not being replaced in tracking URL
- Import Events and Other Feature added
- New Improved Design
- Bug fix of link not creating
- Bug fix of date issue on view page
- Duplicate event
Version 1.0.0
- Initial stable M2 release