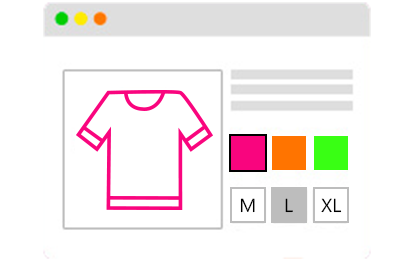 Approved By:
Adobe Commerce Marketplace
Developed By:
Adobe Certified Experts
Magento 2 Custom Option Image Extension
Show Custom Option Image using Magento 2 Custom Option Image Extension.
30 Days Moneyback Guarantee
12 Months Support & Updates
---
Details
Custom Option Image visually enhances Magento custom options feature by showing product custom options as clickable images while supporting all of the functions. Magento 2 Custom Option Image Extension works with all Magento product types and supports an unlimited number of custom options.
Magento 2 Custom Option Image Extension Features
– Add image to Custom Options
– Easily assign, edit and remove particular image or color for different custom options of select type.
– Admin can set different height and width of the image to be displayed for options of different input types.
– Add Tool Tip to each Option to explain something about options
Support
We support all our customers through our website. If you have any questions on Extension or need support with its use please contact us. – we're happy to help you.
Reviews 1
User Guide
Change Log
Version 1.0.9
- Compatibility With Magento 2.4.6-p2
Version 1.0.4
- Compatibility With Magento 2.3.5
- Bug Fixes
Version 1.0.2
- Bug Fixes
Version 1.0.1
- Various bug fixes, code optimizations
- Compatibility with Magento 2.1
Version 1.0.0
- Initial release