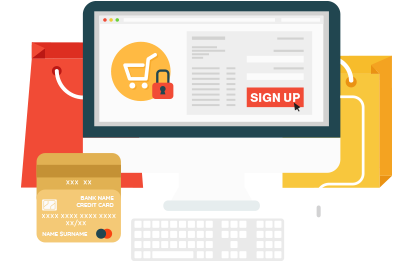 Approved By:
Adobe Commerce Marketplace
Developed By:
Adobe Certified Experts
Magento 2 Checkout Sign up ( Registration ) extension
30 Days Moneyback Guarantee
12 Months Support & Updates
---
Details
With default checkout, website visitors have the option to create an account with the website after they place the order, this could be the reason for the drop in customer registration ratio on the website. Checkout Signup extension provides the functionality to choose to create an account with the website on the checkout page, prior to placing the order.
After installing the checkout signup extension, you can enable/disable it from the admin area. Enabling the extension will add a "Create An Account"checkbox the customers can click to create an account with the website.
Check out Sign up can help to increase customer registration to your website. Registration can avail the following benefits for admin and customers.
Benefits For Admin
Improved customer retention:- Registration allows businesses to begin to build a relationship with consumers.
Ease of repeat purchases:- Saving customer address and billing details make future purchases smoother and repeat purchases more likely.
Easier and faster checkout for mobile users:- Not having to enter the address and the payment details, removes much of the pain from mobile purchases.
More reviews:- It is easier to encourage registered customers to rate and review products they have purchased.
Benefits For Customers
Ease of subsequent purchases:- No re-entry of card or address details means less effort when you buy again.
Access order history:- Give the ability to check order history from my account section.
FAQ - Common questions about checkout signup/Registration Extension
Question:- How can a guest user set the password for the account, if he/she choose to create the customer account on checkout?
Answer:- Extension sends the notification email to the guest checkout customer which contain the link to set the password for the created account.
Question:- Will customer able to see the current order in the newly created customer account?
Answer:- Yes, the order will be linked to the newly created customer account and can be viewed in my account section.
Question:- Can I run this on my staging or development site, too?
Answer:- Yes, this extension works for staging as well as the live site.
Support
We support all our customers through our website. If you have any questions on Extension or need support with its use please contact us. – we're happy to help you.


Reviews 1
User Guide
Change Log
Version 1.0.5
- Compability with Magento 2.4.6
Version 1.0.4
- Compability with Magento 2.4.5-p1
Version 1.0.4
- Compability with Magento 2.4.5-p1
Version 1.0.3
- Compability with Magento 2.4.4
Version 1.0.2
- Compability with Magento 2.4.3
- Add Extension version in Stores > Configuration setting
Version 1.0.1
- Compability with Magento 2.3.4
Version 1.0.0
- Initial Release