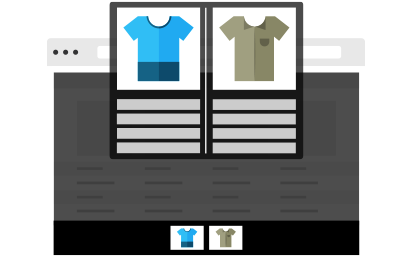 Approved By:
Adobe Commerce Marketplace
Developed By:
Adobe Certified Experts
Ajax Add To Compare
Make product comparison easy and effective.
30 Days Moneyback Guarantee
12 Months Support & Updates
---
Details
Product comparison is one of the most powerful features for any webshop, but page reloads during add to compare can be harmful to the website. As Page reloads is considered as one of the most annoying elements that have negative impacts on the online shoppers. "Ajax Add To Compare" extension helps you to deliver a better user experience. Let to customers compare products without page reloading. Quick compare and immediate redirection always will stand you in good stead in improving your store usability.
This extension will allow customers to compare products easily. Customers can see the added products for comparison in compare box at the bottom of the screen. This extension is also known as advanced compare, advanced comparison, ajax compare module etc.
This is an Advanced Comparison module which adds useful features to the default Magento® comparison. It helps customers compare goods with their features, qualities; and find the best product to purchase. Add to compare extension make it more superior with it's added merits like the customer can add the product in comparison on the fly. Thus this makes it much more convenient and faster for your customers!
FAQ - Common questions about Ajax Add To Compare
Question:- Can I hide compare box (which is at the bottom of the screen)?
Answer:- Yes, there is setting in the admin area to show/hide compare box.
Question:- Does product also remove from the sidebar compare product block in left using ajax?
Answer:- Yes, It will remove the product from the sidebar compare block using ajax.
Question:- What is the main functionality of compare box?
Answer:- With compare box, the user can easily check the list of product added for compare and also allows the user to edit the list.
Question:- Can I run this on my staging and development site, too?
Answer:- Yes, this extension works for staging as well as the live site.
AJAX ADD TO COMPARE FEATURE HIGHLIGHTS
Ajax add to compare
Ajax remove from compare list
A quick view of compare product list through compare box at the bottom of the screen.
Support
We support all our customers through our website. If you have any questions on Extension or need support with its use please contact us. – we're happy to help you.
Reviews 1
User Guide
Change Log
Version 1.0.5
- Compability with Magento 2.4.5-p1
- Bug fixes
Version 1.0.4
- Compability with Magento 2.4.4
- Bug fixes
Version 1.0.3
- Compability with Magento 2.4.3
- Add Extension version in Stores > Configuration setting
- Bug fixes
Version 1.0.2
- Compability with Magento 2.4.0
- Bug fixes
Version 1.0.1
- Compability with Magento 2.3
- Bug fixes
Version 1.0.0
- Initial release